Why sales forecasting software?
Ever heard of sales forecasting? How about actual sales forecasting software? Systems that can be purchased to actually "forecast" your success… Sounds a bit woo-woo, eh? Like you just stepped out of your local metaphysical shop with a crystal ball under one arm and a how-to guide in the other? Meh. Not interested. 
But what if something like that really exists? Actual, factual sales forecasting software – a comprehensive, magic tool to help guide you, your sales team, and ultimately your business to achieve the growth you so desire. Something a bit more advanced than that excel spreadsheet grandpa taught you how to use. Sounds cool, right? Even lifesaving, maybe. 
Well, sit back because it's definitely a thing, not just for massive companies and corporations.
What is sales forecasting software?
Welcome to the new world of entrepreneurship – using a sales forecasting software system to help drive your revenue and predict future profits (and so much more).
But wait. You're thinking, "But I'm just a one-man-band! I own a SMALL business – I'm only in the initial phase. A start-up!"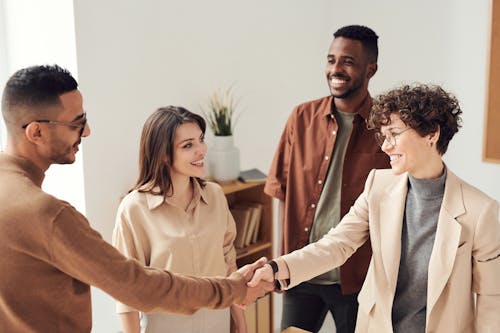 Perhaps these fancy sales forecasting software systems are something that big companies hire outside agencies to take care of – something to dump money into once you reach a certain "level" of success and have funds to simply toss out the window. 
WHEN I am "big enough," I will think about it.
IF I reach X-number of consumers, I will consider the investment.
ONCE I hire an actual staff THEN, I will need to scrap the excel sheet and "go big."
Well, here you go, my friend – PLOT TWIST! If you are a business owner of ANY shape or size, then you need to LISTEN UP. 
State of Sales Forecasting Software
As technology continues to move and develop at literally the speed of light, so do the tools available to you as a business owner. As wonderful as that sounds, once you begin looking at all the options, overwhelm can definitely set in. Moreover, as a small business or start-up, you may be completely unaware of what can truly set you apart and allow you to stand out in the crowd. Oh, but yes… this can also be time-consuming, frustrating, and EXPENSIVE, thus further complicating an already complicated situation… HELP!
Not so long ago, various systems began to pop up in a solo or individualized manner – Customer Relationship Management (CRM) systems, automation systems, chatbot systems, data collection systems… the list goes on and on.
With the development of each piece of outstanding software systems – which took care of a vast array of tedious, mundane tasks – it became more and more evident that trying to get all of them to connect, communicate, and work with each other was HARD if not downright impossible.
Great ideas – little to no connectivity across platforms. That excel spreadsheet to log and track your progress, along with the crystal ball you purchased with the user's guide, looks FABULOUS right about now, wouldn't you say?
Not so fast…
With resistance comes breakthroughs! 
Software developers and engineers continue to push the boundaries of what we believe to be cutting-edge technology. It doesn't matter if you are a newbie, an oldie, a small business, or a corporation – utilizing a great sales forecasting software system is not only a fantastic idea, but it is literally NECESSARY to scale your business and truly put you on the map. 
Try Before You Buy
There are SO MANY options available, and we have to ask… How on earth do I choose the right one? The only tried-and-true answer is and will always be DO YOUR HOMEWORK. Developers have made it super easy to do so, as well. Most of these systems come with free trials. Even though they say "14-day trial" or "30-day trial," if you get on the phone and have a conversation about the specific needs of your business, then those free trials can often be customized to fit your business needs, allowing you to truly leverage the available technology that is a just-right fit. 
Here's another downright fascinating point about these mastermind products… "Sales forecasting software system" is, in our humble opinion, a sleeper-term for sure. Why? Because they do so much more than simply forecast sales projections and growth patterns. These companies have literally gone top-level and have combined many services to include, but are not limited to, CRM, automation, chatbot, data collection, tracking, and recording. Furthermore, you can still utilize grandpa's excel sheet because they also export with ease! 
What is the best sales forecasting software?
But still… how do you choose what is best for you? Again, it cannot be stressed enough – do your homework.
Cruising the web is an excellent place to start. You can get a real sense of the basics. One of the most important things to consider is, for example, dashboard likability. If you take a look at an example of a fully functional sales technology suite and become completely overwhelmed by all the extras, you may find that starting out with a point solution is more compatible with your current needs.
If you're tech-savvy and enjoy data entry, you may not need the add-on assistance required to get you up and running. However, if tech sends you through the roof, then a great working relationship will be something else you need to consider.
Lastly, already have systems in place that are working well? Don't think you have to throw the baby out with the bathwater – many of these systems are readily able to interconnect, but that would definitely be something you would have to discuss with whomever you speak with. 
Now let's get down to the nitty gritty… Below you will find three of the top sales forecasting software systems to date. They were chosen due to their overall function, general likability, and flexible terms and/or options. As a side note, none of these products are listed in any particular order, and we are not working directly with any of these companies – we receive no commission for mentioning them within this space. All languages used to describe their products and services were taken directly from their website. So, without further ado, simply click on the link provided to begin your journey using a sales forecasting software system:
This sales technology suite does it all. Find out how Pipedrive has helped companies like yours skyrocket sales. 
With Anaplan's planning, budgeting, and forecasting solution, you can create and connect business user-friendly plans and formulas with financial and operational drivers at scale and across your entire enterprise.
Upgrade your planning, modeling, budgeting, and forecasting to make better decisions faster.
Which sales forecasting software is best for you?
In an age where quite literally anything goes, on any level of any subject, your business needs stand at the forefront of "anything is possible." Consider what running your business would look like and feel like without the constraints of time-sucking, inconsistent efforts. Taking the tedious and boring out of the equation and replacing them with the right modes of operation – the little things that provide massive value to you, your team, AND your consumers all in one – could absolutely be a gamechanger. 
We would love to hear what your thoughts are on our top picks for sales forecasting software systems. Is there one that you're currently using that you can speak highly of? Have we piqued your interest in expanding your start-up? Did this information help relieve the pressure of taking the first step toward getting some help to ease a complicated structure within your small business? Let us know! Please provide feedback below – we would love to hear how sales forecasting software has or can work for you!